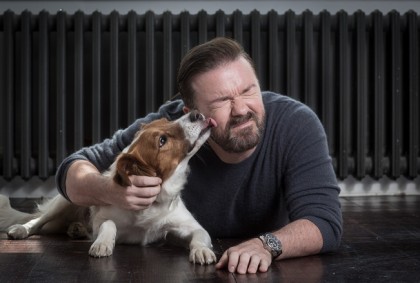 Celebrity shoots can be a mixed bag; flanked by an entourage brandishing clipboards, who are themselves; self important it's easy to see how they are going to become affected. Often the famous see a shoot as a tiresome duty and can't wait to get away, mentioning no names… Marco Pierre-White!
This however, isn't always the case. I was commissioned to shoot a set of portraits of Ricky Gervais for The World Society for the Protection of Animals (WSPA), to launch their red collar campaign, helping fight against rabies. Ricky is a massive star and gave clout to the campaign, so naturally the charity was keen to get it right. Working with them a location was booked and along with the help of Barney the dog we had the potential at least for a great set of pictures.
I've done similar shoots in the past involving animals and they are never easy, with that knowledge, the plan was very much safety first. Working with my assistant for the day Tim Bowditch, we lit the area evenly with plenty of light to allow the Barney (and Ricky) to run around without any fuss.
As soon Ricky turned up and saw the dog I knew we were on to something. After spurning the make up lady and swapping into a different colour top Ricky and Barney ended up rolling around on the floor, but it was the dog that stole the show when he licked Rickys face. Ricky was a great sport and far from wiping it off he encouraged him, before I knew it I had my picture.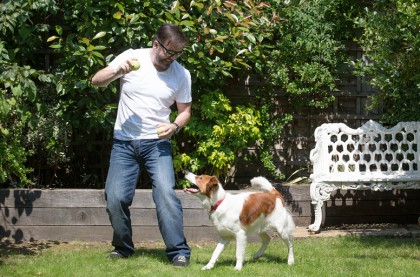 Ricky was great to work with and was genuinely a supporter of the cause, the whole shoot evolved in a very natural way and eventually took an unplanned detour outside when our stars continued playing. This gave my friend Andy Davies who was directing the video an opportunity to grab some really honest footage to cut with the piece to camera he recorded inside. You can watch this here.
On reflection, anyone can have a bad day but it helps if your photographing a top bloke doing something he really believes in.