I think I may have reached the point where my shoots are repeating themselves. I first met Joanna Lumley about 6 years ago when I photographed her with a suitcase full of cash for the National Lottery fund. Try as I might, I can't find that picture but I do remember that it was a bit rough and ready by my current standards. This time as I drove to meet the woman who has become an icon for her work with the Gurkhas I knew I owed her a cracking picture.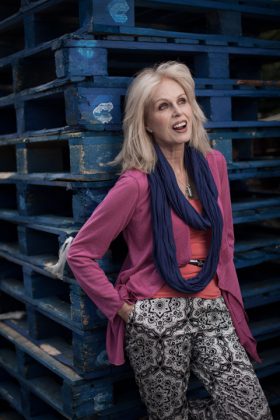 She was being interviewed by The Independent on Sunday for her involvement in the Oxfam and M & S 'Shwopping' campaign. This meant the location was an Oxfam distribution centre in Milton Keynes, a typically grey, bland industrial estate.

After walking round the building for a quick recce, while Joanna was being interviewed, I decided on two locations. I started in the warehouse with a rail of clothes, not inspiring, but necessary to keep Joanna's people on side. Then the star of the shoot pitched up and suddenly everything came to life as she dived into the clothes rail. I was instantly aware that I was shooting a modelling pro. Although I attempted to reminisce over our last meeting she politely changed the topic (maybe our first encounter wasn't as memorable for her!)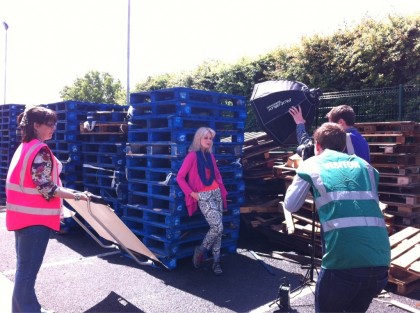 With the PR's agenda met, I moved outside where I had found a slightly edgier pile of bright blue palettes, which worked really well with her outfit…

I was pleased with the results and I hope she was too; fingers crossed she will remember me next time.