"I haven't been away for ages!" Then all of a sudden the phone rings and I'm off to Peru.

I'm not sure I'll ever get over just how good my job can be, I refuse to be nonchalant about it too. It's exciting and I don't feel the need to pretend to be cool and take it all in my stride.

The job was a commercial shoot for SAB Miller who have to produce a sustainability report. So recycling centres and water purification was what I expected… but certainly not what I got.

After an internal flight from Lima to Trujillo in the North and a further 3 hours drive I stood on a decollate road as a dude on a motorbike shot past shouting "Hey Gringo!" I indeed was the only Gringo for miles, let alone the only ginger lad!

With my pale skin burning like bacon in a pan… (with the same smell too) I got on with my job, shooting Jorge' a Maze farmer who has been helped by SAB to market his wares further afield and not to just exist on his crop which is no longer a viable option.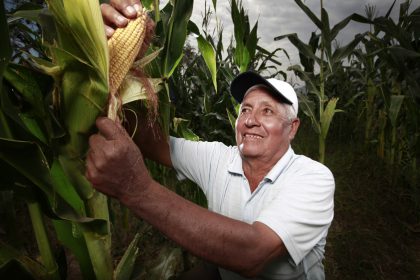 It was a short trip, and I certainly wasn't a tourist by any stroke of the imagination, but I'd rather spend my time meeting the likes of Jorge than walking around Machu Picchu hoping for some divine enlightenment.

I'm off to India next week, so stay tuned for the latest adventure.