Ballet meets S Club 7
mrsjason: "That'll be good"

jason: "Not sure, havn't seen the trailer"

mrsjason: "I suppose you'll want to see that western"

jason: "Yeah Jeff Bridges is meant to be great, besides ballet…?"

2 hours go by….

No, as it turned out Black Swan is not a chick flick, in fact it's rather beautifully shot and had us both wincing in our seats as Natalie Portman removed the skin from around her finger nails… shudders!! Little did I know that the films subsequent success would see me shooting ballet related portraits over the next couple of weeks.

First up, I got a call from M&C Saatchi, to shoot something to publicise Oranges sponsorship of the BAFTA 's. After an initial meeting and a list of possible celebrity champions, I found myself in a London Hotel with the lovely Rachel Stevens. The mission… to turn her into The Black Swan.

Once the team of hair, makeup and styling people had done their business, it was my turn. Unusually for me, I'd gone for a very elaborate studio setup (4 light's and a 10ft colourama, which barley fitted in the car), which, retrospect probably added to Rachel's trepidation. She had given birth a few weeks before, and I'm sure she would have preferred her first shoot; post pregnancy not to be dressed as a ballerina. "I haven't worn one of these since I was 8!" she said as she walked in.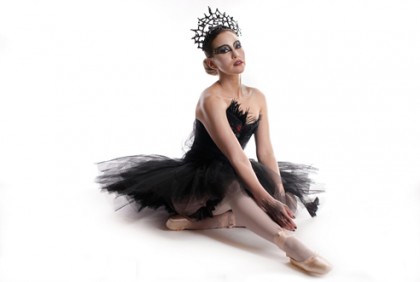 She needn't have worried, she looked great and once I'd shown her a few pictures and built up some trust we had fun shooting a few different poses.

A week later and I was asked to rush to the Royal Opera House by The Independent on Sunday, this time for an interview with Lauren Cuthbertson, I had just enough time to familiarise myself with her work (which is stunning) before being dumped into a bland rehearsal room, as the Press Officer said "Lauren hasn't got long".. Uh Oh!!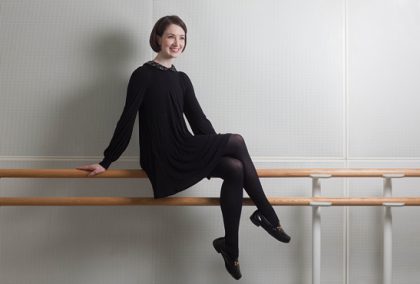 It couldn't have been more different from my job the week before, I barley had time to set up before Lauren walked in, not in her tights but in an elegant black dress (not what I was hoping for). I worked as quickly as I could, and tried to pose her in a way that showed her natural poise without it being a stereotypical ballet portrait. Read the article by Susie Mesure here.

Looking back, both portraits served their purpose but it did remind me that the execution of a photograph goes far beyond obvious cues… How would I pose a ballerina to look like a former member of a pop group?