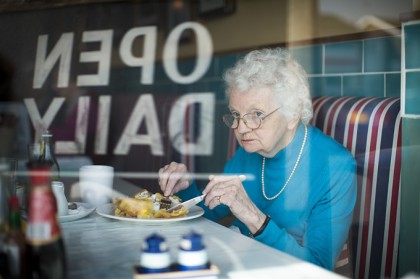 Friday nights as a boy growing up with my parents in South East London meant one thing to me: dinner from the fish and chip shop. My Dad would wait in the car outside as I strained to see over the counter and reach for the warm heavy bag.
Last month I was commissioned by The Wall Street Journal to photograph the finest fish and chip shops in the land. Once I'd built up sufficient appetite I began a journey that took me from Nottingham to Whitstable, a calorific 500 mile round trip. Inspired by the classic images by one of my favorite photographers; Martin Parr (look for his book The Last Resort), I wanted draw on the social aspects of Britain's love affair with the dish.
Modern chipperies come in many different guises; my first stop was in trendy Islington where Champagne was as likely an accompaniment as vinegar, and business men meet over lunch with oysters.
The final leg of my voyage took me to V.C Jones, an authentic 1950s dining room in Whitstable on the Kent coast. The shop had been in the same family for generations and many of the patrons had been attending for about as long. Grime covered builders mixed with families and pensioners over their crisply battered cod and chips.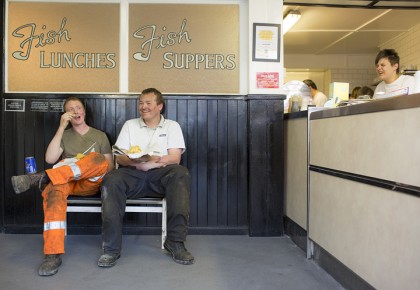 Sitting on Whitstable's stoney beach with my fourth portion of fish and chips in as many days, I was genuinely a bit sad that it was over even if my body was not.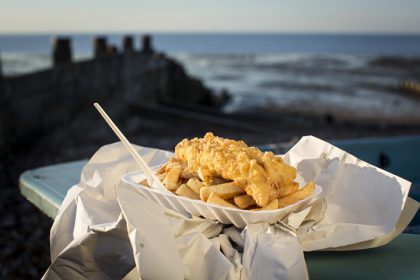 For the full story by Lennox Morrison click here.