Posts from —
March 2012
Trudging through hoards of tourists along Piccadilly, laden with a studios worth of equipment I arrive at the Mayfair hotel to be greeted by reporter Genevieve Roberts who was interviewing actor Sean Bean for the Independent on Sunday.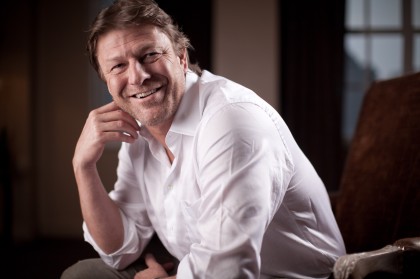 Whilst we both eye up a collection of cakes Genevieve tells me her plan.

"You might want to go first… They want me to ask about his wives… all 4 of them, I'm going to slip it in at the end but I don't think he'll be happy" she informs me.

That's a good heads-up. I head to Sean's people and see how long we've got before it's our turn. We had five minutes, which once I'd finished my cake wouldn't have given me enough time to set up. I would just have to rely on my charm and the likelihood that a man whose been married and divorced 4 times will have developed a thick skin.

Half an hour later, I'm all set and have shot a few test frames of the overtly chatty make-up lady (They are all the same).
Sean's PA enters the room: "Sean needs a belt, I'll go to the concierge" she flaps
Thinking that this might endear me to my charge I risk potential humiliation and offer my own. Sure enough Sean returns sporting the latest fashion, well, my cheap GAP belt!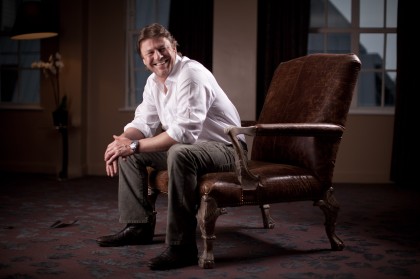 The shoot sailed by as we chatted about Sheffield, where he grew up and how I used to run around the back garden pretending to be Sergeant Sharpe (a character he played in my childhood)

When my 15 minutes were up we shook hands and he headed for the door.

"Oi Bean, belt!!"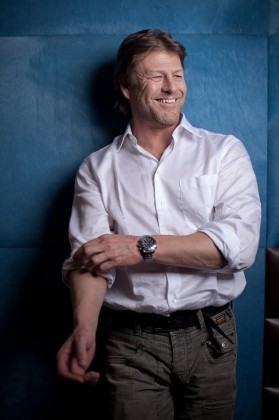 He gave it back; and now the article is in the paper; you can read the full story here. Not sure if it'll be one for me but he's just released his new film Cleanskin, which is in the cinemas now.
March 11, 2012 3 Comments