Posts from —
March 2010
News took me back to Heathrow yesterday.

Last week I got a great picture used on the front of the FT that I shot last year amidst all the hoo-hah about the T5 expansion. But file pictures don't last forever and when my picture editor at The Independent said "you might have to sharpen your elbows for Heathrow on Saturday", I knew that meant a long trudge around Hatton Cross (Mecca for news photographers and plane spotters alike).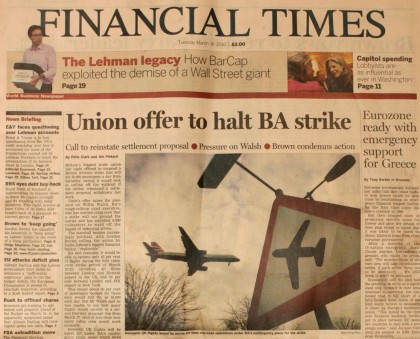 I started off with a trip to the terminal for a sneaky pic of the departures lounge, technically trespassing, but that makes it all the more exciting… If it lasts more than 3 frames that is, at which point I was stopped by security. I played the "sorry, I didn't know" card and left feeling like a naughty schoolboy.
Next stop the picket, where I was welcomed by an army of cheery middle class cabin crew who directed me in stereotypical style to Demo HQ (a bar). A 1970's miners strike it was not, with soot exchanged for duty free Chanel the picket seemed to develop a party atmosphere as the day dragged on. According to BA, 60% of staff turned up for work, obviously worried about losing their travel benefit. On the whole, I reckon the remainder had a nice day out opting to bring their kids for a ride on the Unite open top minibus, bless. Read the story on The Independent on Sunday website, here.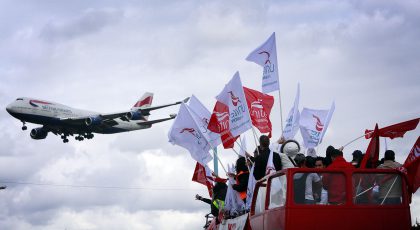 Two hours on and here's the result, Rover was already standing on the Willie Walsh cut out… honest, guv.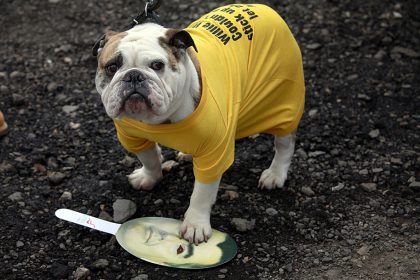 March 28, 2010 1 Comment